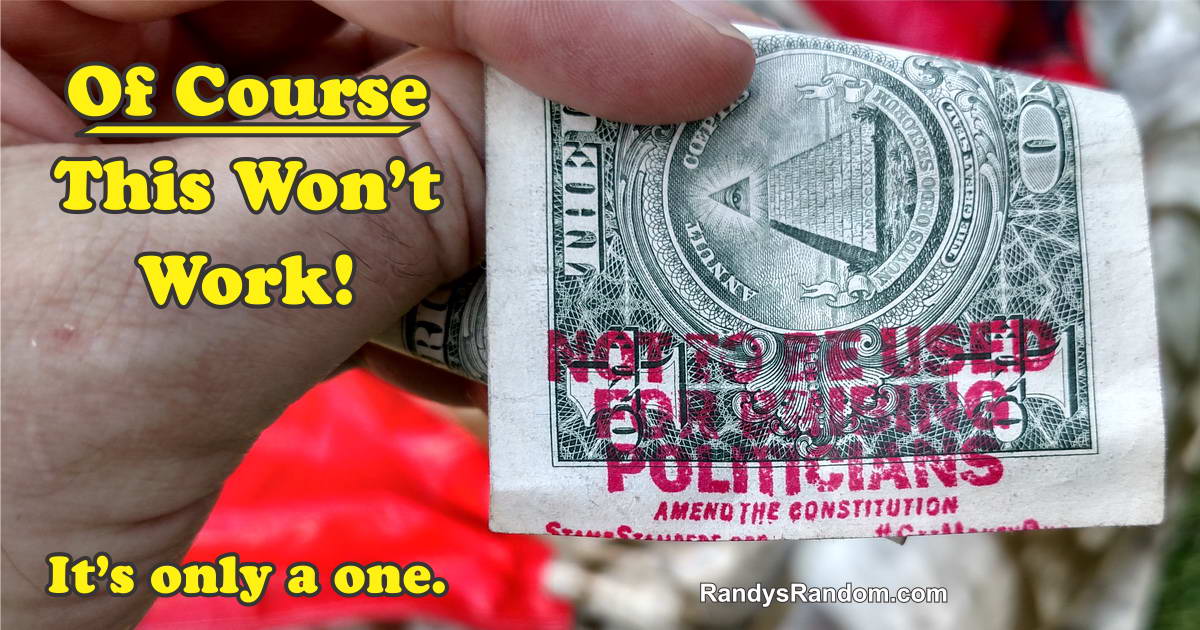 My photo: I got this bill in change. It wasn't done well, as the URL at the bottom got cut off, but I found this is from Stamp Stampede. I hadn't heard of them before, so I looked it up:
Stamp Stampede is a grassroots campaign mobilizing people across the country to stamp messages on American currency in support of passing a constitutional amendment to Get Money Out of Politics. Ben Cohen, the co-founder of Ben & Jerry's ice cream, spearheads the campaign. They promote stamping through the distribution of rubber stamps, public stamping activities and national tours in the Stamp Mobile. The rubber stamps include different messages, such as "Money is not free speech", "Not to be used for bribing politicians", "Corporations are not people; amend the Constitution", and "The system isn't broken, it's fixed." (Wikipedia)
When categorizing this meme, I hovered over "Funny" — but it's too true to be treated as humor. Pretty much like my special "Get Out of Hell Free" card designed for politicians. (Clicking on it goes to the order page.)

Comments and Nav are Below.
---
Randy Cassingham is best known as the creator of This is True, the oldest entertainment feature on the Internet: it has been running weekly by email subscription since early 1994. It is social commentary using weird news as its vehicle so it's fun to read. Click here for a subscribe form — basic subscriptions are free.
---
Jump to Random Meme