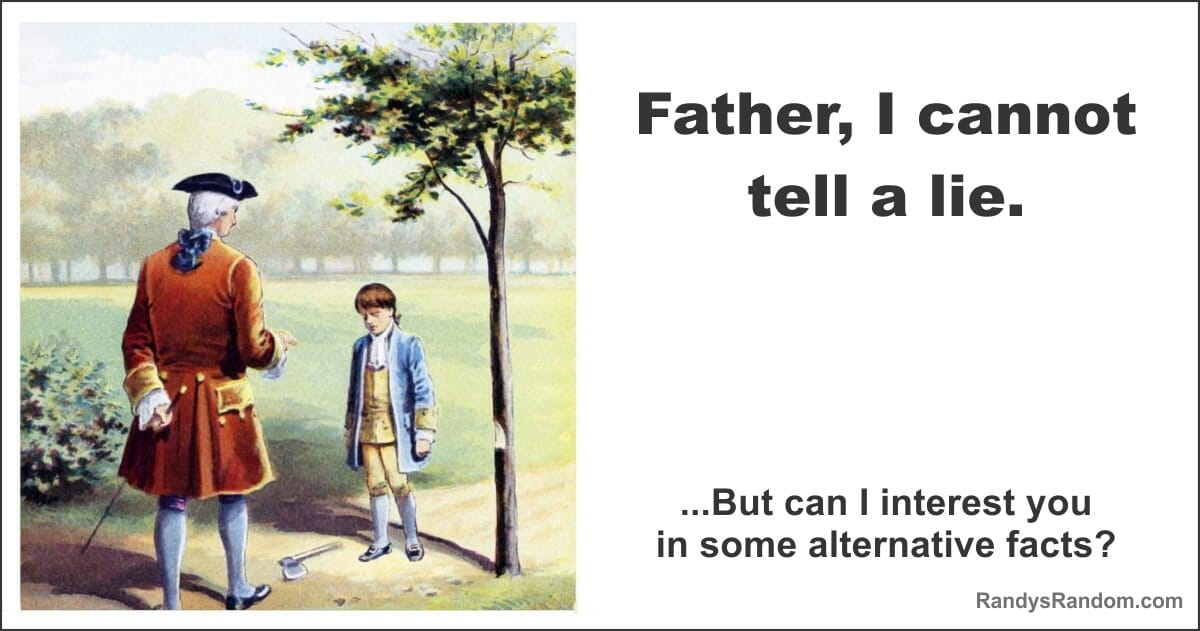 Engraving by John C. McRae, 1867.
This is a particularly apt tale for an "alternative facts" meme since the ironic thing about the George Washington "Cannot tell a lie" story is, it was completely made up by itinerant minister Mason Locke Weems, an early Washington biographer. Weems sought to capitalize on Washington's death in 1799, and pitched his project to a publisher: "Millions are gaping to read something about him," he wrote. His "plan" was to "give his history, sufficiently minute," and then "show that his unparalleled rise and elevation were due to his Great Virtues."
While Washington, the first president (and hero of the American revolution) indeed had many great virtues, Weems kept building him up even more, even after the first edition of his Washington biography was published in 1800. The cherry tree story, in fact, wasn't even in the first edition: it didn't appear until the fifth edition, published in 1806.
By 1836, the myth was turned into a children's story by Presbyterian minister William Holmes McGuffey, known today for his McGuffey's Readers books, which McGuffey intended to be a way to indoctrinate children into morality and religion.
If only these Christian ministers "couldn't tell a lie" — or, as they no doubt preached against to others, they bore false witness.
Washington's birthday (February 22) is still celebrated as a National Holiday in the United States, this year observed on February 20. The holiday is still officially Washington's Birthday, although many states instead call it "President's Day" to also honor 16th president Abraham Lincoln, who was born February 12, and/or other patriots, some of whom weren't even born in February (e.g., George Washington/Thomas Jefferson Birthday in Alabama; Jefferson was born in April).

Comments and Nav are Below.
---
Randy Cassingham is best known as the creator of This is True, the oldest entertainment feature on the Internet: it has been running weekly by email subscription since early 1994. It is social commentary using weird news as its vehicle so it's fun to read. Click here for a subscribe form — basic subscriptions are free.
---
Jump to Random Meme