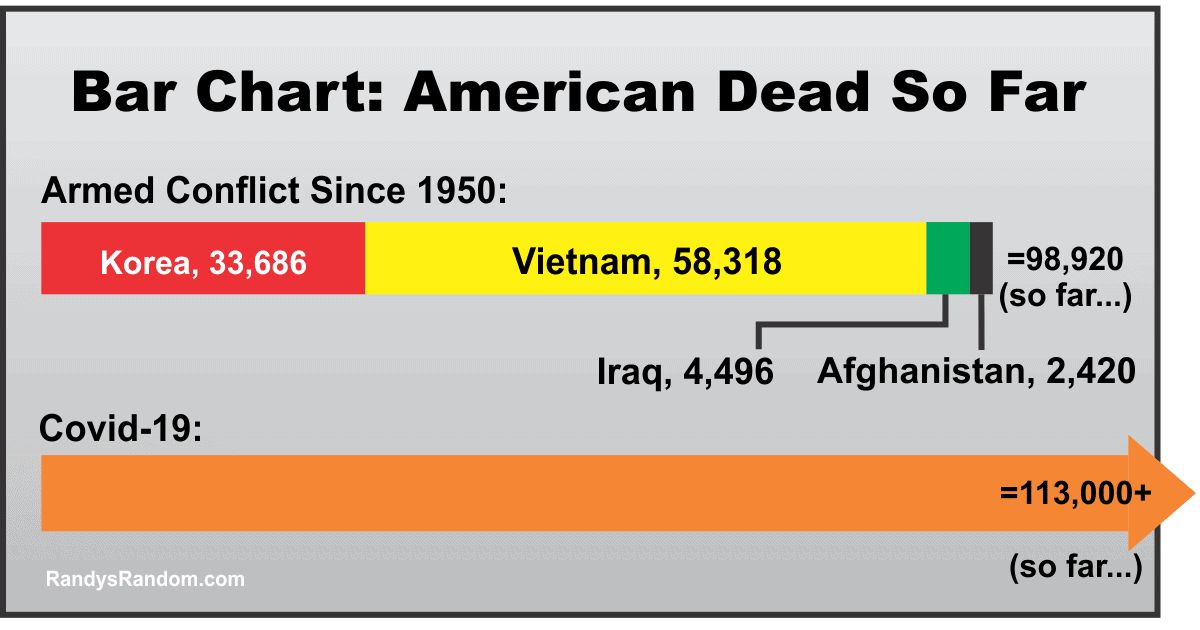 COVID: The first known COVID-19 death in the U.S. was February 6, so that's an average of just over 911/day for 124 straight days.
That first person was Patricia Dowd, a manager for a semiconductor company in the San Francisco Bay Area who "exercised routinely, watched her diet and took no medication," and was a non-smoker. She was 57.

Combat: U.S. President Harry Truman ordered American troops into Korea on June 30, 1950, and the first U.S. combat death was July 5, 1950. In the 25,542 days since then, the average U.S. combat death rate is not quite 4/day.
The first American casualty of the Korean War was Pvt. Kenneth Shadrick, 19, an infantryman from Skin Fork, W.V. A member of a bazooka squad, Shadrick had fired his weapon at a Soviet-made tank, and then looked to check his aim. He was quickly mowed down by enemy machine-gun fire.
For comparison, flu deaths aren't tracked quite as closely, and certainly not on an easily available state-by-state basis. That said, CDC estimates there have been 15,631 deaths (including 182 children) from Jan. 1, 2019 through May 30, 2020 — 516 days. That's an average of 30.3/day, making COVID-19 around 30x "worse," mortality-wise.
(The second bar in the chart, which is proportional to the first bar, actually fit inside the box when I made this, but I did a last-minute recheck of the total Sunday evening, and had to extend it. And again, this is only American deaths. Combat data source: U.S. Dept. of Defense; COVID data source: World COVID-19 Stats.)

Comments and Nav are Below.
---
Randy Cassingham is best known as the creator of This is True, the oldest entertainment feature on the Internet: it has been running weekly by email subscription since early 1994. It is social commentary using weird news as its vehicle so it's fun to read. Click here for a subscribe form — basic subscriptions are free.
---
Jump to Random Meme