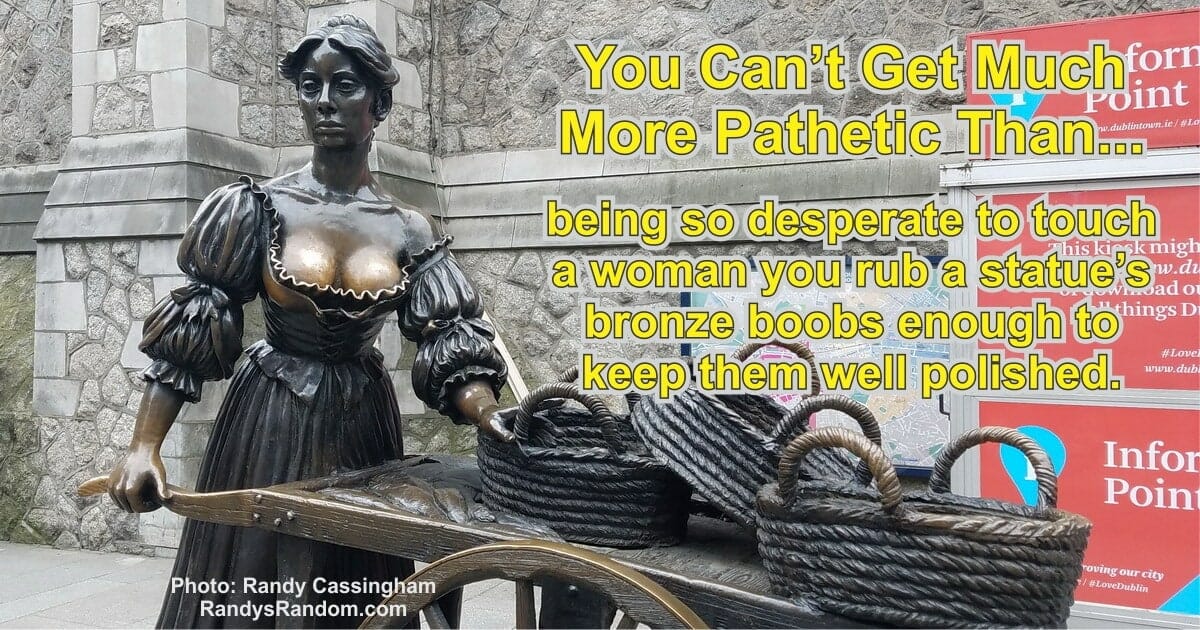 I made this graphic on the train between Dublin and Belfast, and showed it to my wife when I finished. Her comment: "I didn't see it as desperation so much as a 'good luck' thing." Yeah, I said: 'good luck' getting to touch a real woman! 😀
Photo: statue of Molly Malone in Dublin, Ireland.
"Molly Malone" (also known as "Cockles and Mussels" or "In Dublin's Fair City") is a popular song set in Dublin, Ireland, which has become the unofficial anthem of Dublin.
The Molly Malone statue in Grafton Street was unveiled by then Lord Mayor of Dublin, Alderman Ben Briscoe, during the 1988 Dublin Millennium celebrations, when 13 June was declared to be Molly Malone Day. The statue was presented to the city by Jury's Hotel Group to mark the Millennium.
On 18 July 2014, the statue was relocated to Suffolk Street, in front of the Tourist Information Office, to make way for Luas [tram] track-laying work to be completed at the old location. Due to the increase in tourist foot traffic, and a common penchant for being "handsy", the statue has been groped often enough that the bronze hue has begun to wear off on the bosom.
The song tells the fictional tale of a fishmonger who plied her trade on the streets of Dublin, but who died young, of a fever. In the late 20th century a legend grew up that there was a historical Molly, who lived in the 17th century. She is typically represented as a hawker by day and part-time prostitute by night. In contrast she has also been portrayed as one of the few chaste female street-hawkers of her day.
There is no evidence that the song is based on a real woman, of the 17th century or any other time.
Continues on Wikipedia. Example of the song by The Dubliners:

Comments and Nav are Below.
---
Randy Cassingham is best known as the creator of This is True, the oldest entertainment feature on the Internet: it has been running weekly by email subscription since early 1994. It is social commentary using weird news as its vehicle so it's fun to read. Click here for a subscribe form — basic subscriptions are free.
---
Jump to Random Meme