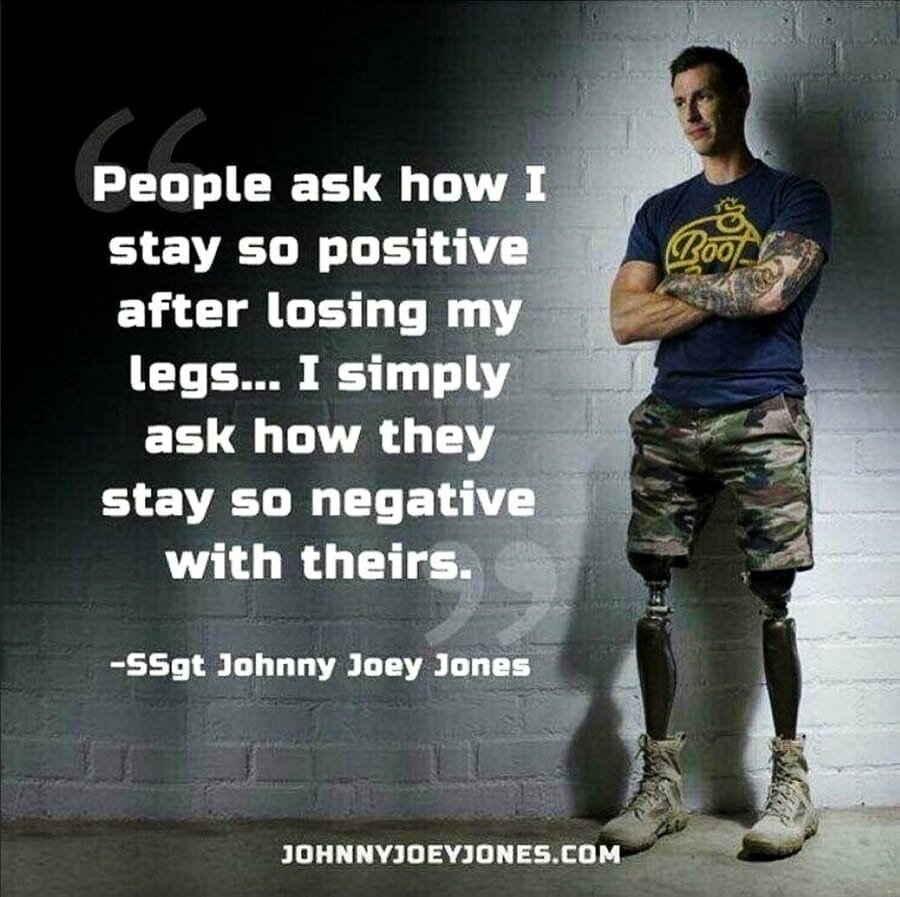 When is the last time you stopped to think about how good you have it?
Johnny Joey "Triple J" Jones joined the U.S. Marines right out of high school. He served as a Explosive Ordnance Disposal tech in Iraq and Afghanistan, defusing bombs. He lost both legs above the knees in Afghanistan when he was 24 years old.
After his recovery, Joey began attending college, and worked as the first enlisted Congressional Fellow for the House Veterans Affairs Committee. There, Joey was able to share his experiences with the Congressional Committee members, Staff, and various interest groups to better serve wounded warriors.
He retired from the Marine Corps in Oct 2012, and graduated from Georgetown University in the class of 2014. He has been awarded the Purple Heart, Navy and Marine Corps Commendation Medal with combat Valor device, Combat Action Ribbon, Outstanding Military Community Service Medal, and various campaign and unit awards.
After losing his childhood best friend to PTSD-related suicide in 2012, Jones turned his disability into a personal mission to improve the lives of all veterans. He works with various veteran organizations, funds a summer camp for kids, and accepts speaking engagements. His web site is http://JohnnyJoeyJones.com
Today is Armed Forces Day, and the start of Armed Forces Week. May you be inspired to count your blessings and move forward or, as Triple J says, "Get up, Get Over it, and Get Going."

Comments and Nav are Below.
---
Randy Cassingham is best known as the creator of This is True, the oldest entertainment feature on the Internet: it has been running weekly by email subscription since early 1994. It is social commentary using weird news as its vehicle so it's fun to read. Click here for a subscribe form — basic subscriptions are free.
---
Jump to Random Meme