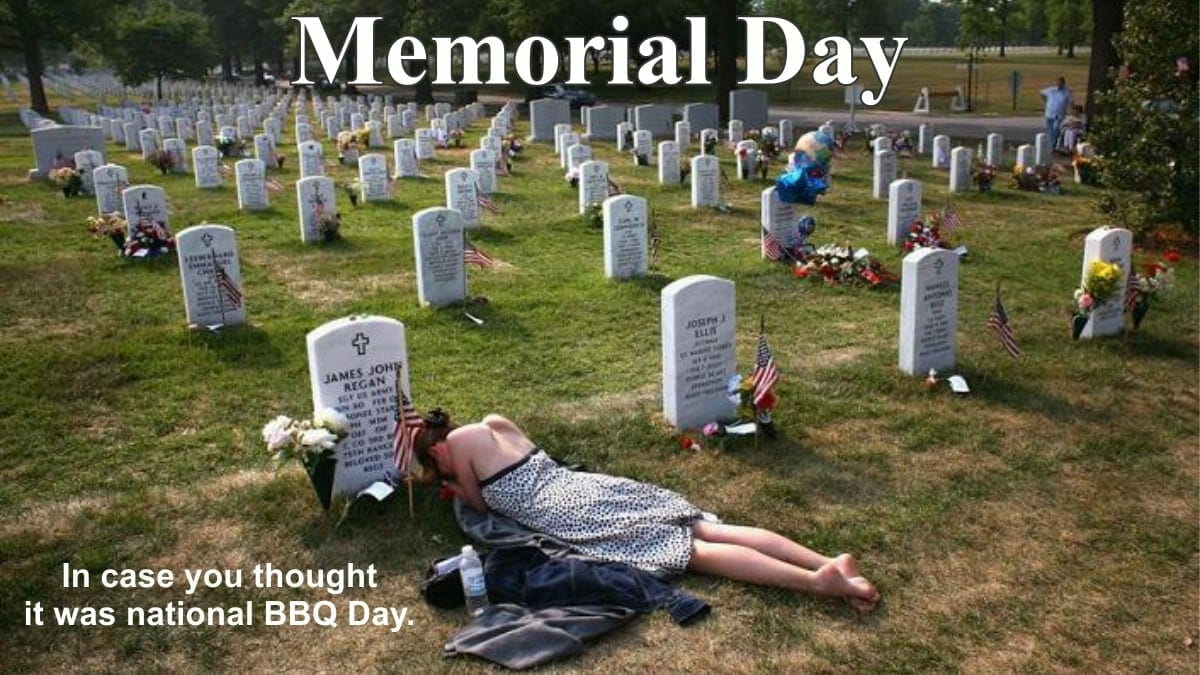 A few years ago I saw this meme on Memorial Day weekend. I didn't make it, but I wanted to know the story behind it. No one who posted ever said who James was, or who the woman is, so I researched it.
This is Mary McHugh at the Arlington National Cemetery grave (Section 60 Site 8535) of her fiancé, Sgt. James John Regan, who was 26 and from Manhasset, N.Y. He died February 9, 2007, in northern Iraq of wounds suffered when an IED exploded near his vehicle while on combat patrol. Regan was assigned to the 3rd Battalion, 75th Ranger Regiment, at Fort Benning, Georgia. He was the third graduate of Chaminade High School to die in the Iraq war, and had been named a member of the National Honor Society.
He played lacrosse in high school. "He had the ability to dominate a game by himself," said the school's coach, Jack Moran, "but he led by example and leadership. He's one of these unique kids who make everybody better."
Regan had intended to go to law school, but the 9/11 attacks occurred while he was in college, killing many of the citizens of his home town, and upon graduation he joined the Army Rangers. He had earned the Bronze Star, the Purple Heart, and several other medals. "He said, 'If I don't do it, then who will do it?'" Miss McHugh said. "He recognized it as an option and he couldn't not do it." He attended the Army's Language Training School, and worked to learn about the countries where he served.
He left behind three younger sisters: Maribeth, 25, Colleen, 20, and Michaela, 16, who called her brother "a best friend to everyone he knew." He planned to marry McHugh when he got out of the Army in February, 2008.
The picture was taken over Memorial Day Weekend 2007, by photographer John Moore of Getty Images, who has also worked as a war photographer in Afghanistan and Iraq.
"She sat in front of the grave, talking to the stone," Moore said. "She spoke in broken sentences between sobs, gesturing with her hands, sometimes pausing as if she was trying to explain, with so much left needed to say. Clearly, she had not only loved him but truly admired him. When he graduated from Duke, he decided to enlist in the Army to serve his country. He chose not to be an officer, though he could have been, because he didn't want to risk a desk job. Instead, he became an Army Ranger and was sent twice to Afghanistan and Iraq — an incredible four deployments in just three years."
Is the photo "too intimate, too personal"?
"Like many who have seen the picture," Moore said, "I felt overwhelmed by her grief, and moved by the love she felt for her fallen sweetheart. After so much time covering these wars, I have some difficult memories and have seen some of the worst a person can see — so much hatred and rage, so much despair and sadness. All that destruction, so much killing. And now, one beautiful and terribly sad spring afternoon amongst the rows and rows of marble stones — a young woman's lost love."
So now you know at least some of the story behind the meme that has been "going around" for several years now.

Comments and Nav are Below.
---
Randy Cassingham is best known as the creator of This is True, the oldest entertainment feature on the Internet: it has been running weekly by email subscription since early 1994. It is social commentary using weird news as its vehicle so it's fun to read. Click here for a subscribe form — basic subscriptions are free.
---
Jump to Random Meme